Expand your innovation ideation limits with our new free, downloadable resource. The Biomimicry + Packaging Innovation Toolkit "game-ifies" the innovation process, and is designed to help individuals or teams of any kind use biomimicry to generate innovation ideas inspired by nature.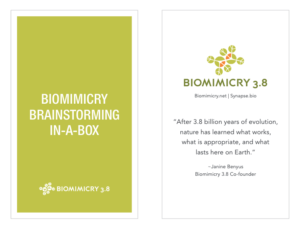 The toolkit was developed for the Ellen MacArthur Foundation's Circular Economy 100 Collaborative Project initiative in collaboration with Dell and Heineken.
Procter and Gamble, DOW, HP, and other leading companies around the world have used the toolkit to expand their innovation ideation processes through biomimicry. Read more about how companies have used the toolkit here. 
Join those who've already to began exploring nature's brilliant solutions to the challenges we face. All materials and instructions are included in the download. And, stay tuned for new toolkits covering topics related other pressing, global issues.
Who should use the deck?
This toolkit can be used by individuals or with a team, helping any group spark new ideas via nature's genius. 
Using the deck will help players unlock the potential of biomimicry as an innovation tool that inspires an inherently sustainable design process, inspiring players to identify, use, and apply biological models to unlock new ideas that can drive innovation.
Once you've downloaded the toolkit materials, in just a few hours you'll gain insight into how to generate an endless array of creative solutions to support (or drive!) sustainability goals across sectors.
What does the toolkit include?
The toolkit is comprised of the Biomimicry Brainstorming-in-a-Box card deck with the specialized topic cards, worksheets, and supporting materials as described below.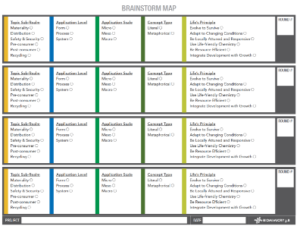 *PDF copy of the Biomimicry Brainstorming-in-a-Box card deck

Concept board worksheet

Brainstorm map

Read Me First content overview

Intro video

Facilitator Instructions
How do I use the toolkit?
The digital download package includes a *PDF copy of the card deck, facilitator instruction sheet and intro video, as well as a content overview. Review each of the supporting materials before you get started. 
*A physical Biomimicry Brainstorming-in-a-Box card deck is available for purchase here.
To download the Biomimicry Innovation Toolkit, please fill out the following form. After the form is complete and you've clicked "Download Toolkit," you'll be redirected to a page where you can download all content pieces.